Visual Resources Digitisation Officer (FIXED TERM CONTRACT)
5 months (1.0 FTE) or 10 months (0.5 FTE)
ADD LINKS
Salary: £27,318to £30,748 pa based on 1.0 FTE
Location: Farnham
Ref: 10-LIBR143-02
The University for the Creative Arts has campuses at Canterbury, Epsom, Farnham, Maidstone and Rochester and is home to 6,500 students from over 70 countries studying on courses in fashion, graphics, design, media, fine art and architecture.
The Imagio project is a Library and Learning Services project funded by the University to support teaching and learning.
Phase one of the project produced a policy and technical framework for the capture and storage of digital images. The Visual Resources Digitisation Officer will be responsible for the implementation and dissemination of phase two: the creation of a digital still image resource for use by academic staff.
This newly created post provides an exciting opportunity for someone wishing to gain experience in the development of digital image databases within an HE library setting.
It would suit a candidate with initiative who enjoys interacting and liaising with a wide-range of people.
Candidates should have a professional qualification in librarianship or information science with library experience, preferably in the HE sector. Experience of visual resources in a creative HE environment, and digitisation skills would be an advantage, as would a knowledge of copyright and IPR.
Application forms, Vacancy Summary and further information relating to the University for the Creative Arts are available for download or alternatively contact the Human Resources Department via email HR@ucreative.ac.uk or on 01252 892681 (24 hours -quoting the relevant reference).
The closing date for receipt of applications is 25 February 2010
Interviews will be held on week commencing 08 March 2010
We value the diversity of our organisation and welcome applicants from all sections of the community.
Share and Enjoy
The Arts and Humanities Research Council has released details of the winners of its 'Digital Equipment and Database Enhancement for Impact' scheme.
21 projects have been funded at a value of just over £4m.
Dr GP Earl £232,575.00
School of Humanities, University of Southampton
Reflectance Transformation Imaging Systems for Ancient Documentary Artefacts

Professor J Ellis £332,520.00
Department of Media Arts, Royal Holloway, University of London
Consolidated Moving Image and Sound Database Framework

Dr BA Fennell £334,574.00
School of Language and Literature, University of Aberdeen
Language and Linguistic Evidence in the 1641 Depositions

Professor RS Fensham £347,592.00
Dance Film and Theatre, University of Surrey
Digital Dance Archives (DDA): cross-collection interactivity and enhanced user engagement with dance resources

Professor PH Gray £111,768.00
School of History and Anthropology, The Queen's University of Belfast
Documenting Ireland: Parliament, People and Migration, 18th-20th Centuries (DIPPAM)

Mr C Harrison £182,135.00
Ashmolean Museum, University of Oxford
The Elements of Drawing: Enhancement and Dissemination for Impact

Professor AF Hartley £159,293.00
School of Modern Languages and Cultures, University of Leeds
IntelliText – Intelligent Tools for Creating and Analysing Electronic Text Corpora for Humanities Research

Dr E Leach £191,189.00
Music Faculty, University of Oxford
DIAMM: Digital Image Archive of Medieval Music

Dr AA Marsden £139,505.00
Lancaster Institute for the Contemporary Arts, Lancaster University
Digital Arts Innovation Laboratory (DAILab)

Dr A Mazel £120,679.00
School of Arts and Cultures, Newcastle University
Rock Art Mobile Project

Dr M Melaugh £260,179.00
INCORE, University of Ulster
Visualising the Conflict: Immersion in the Landscape of Victims and Commemoration in Northern Ireland

Dr DT Murphy £109,606.00
Electronics, University of York
The Virtual Acoustics and Auralization Database

Dr D Obbink £113,487.00
Classics Faculty, University of Oxford
A Collaboration between Classics and Astrophysics: An Advanced Multispectral Imaging Laboratory Optimised through Crowd-Sourced Statistical Analysis

Professor W. R. Owens £100,778.00
Department of Literature, The Open University
Developing an International Digital Network in the History of Reading: collaboration between the UK Reading Experience Database and invited partners.

Mr D Pritchard £139,531.00
Digital Design Studio, Glasgow School of Art
Enhancing Engagement with 3D Heritage Data through Semantic Annotation

Professor JD Richards £141,771.00
Department of Archaeology, University of York
ADS+: Enhancing and Sustaining the Archaeology Data Service digital repository

Professor TP Schofield £262,673.00
Bentham Project, University College London
The Bentham Papers Transcription Initiative

Professor D Tudhope £109,802.00
Faculty of Advanced Technology, University of Glamorgan
Semantic Technologies Enhancing Links and Linked data for Archaeological Resources (STELLAR)

Dr C Watts £136,498.00
English, Birkbeck College
Voiceworks Digital Song/Text Project: a collaboration between Birkbeck Centre for Poetics, Wigmore Hall & Guildhall School of Music & Drama

Mr K Woolford (Conditional award) £487,794.00
School of Media, Film and Music, University of Sussex
Motion in Place Platform

Professor A Yarrington £61,462.00
Department of History of Art, University of Glasgow
Mobilising 'Mapping Sculpture in Britain and Ireland, 1851-1951′ (Mobilising Mapping)
Share and Enjoy
14th European Conference on Digital Libraries - Call for Papers
September 6-10, 2010
Glasgow, UK
 Overview
The European Conference on Digital Libraries (ECDL) is the leading European scientific forum on digital libraries and associated technical, practical, and social issues, bringing together researchers, developers, content providers and users in the field.
 Topics of interest include, but are not limited to:
Digital Libraries and Mobility
Digital Library Architectures
Digital Library Infrastructure
Digital Preservation and Curation
Information Mining in Digital Libraries
Information Retrieval in Digital Libraries
Interoperability of Digital Library Systems and Services
Knowledge Organisation Systems
Metadata Standards and Protocols in Digital Library Systems
Multilinguality in Digital Libraries
Multimedia Digital Libraries
Personal Information Management and Personal Digital Libraries
Personalisation in Digital Library Systems and Settings
Policies for Digital Library systems
Social Networking, Web 2.0 and Collaborative Interfaces in Digital LibrariesUser Interfaces for Digital Libraries
User Studies for and Evaluation of Digital Library Systems and Applications
Visualisation in Digital Libraries
Submissions
All contributions must be written in English. They must follow the formatting guidelines of Springer's Lecture Notes in Computer Science (LNCS) and must be submitted via the conference submission system.
Further information
For further information, please visit the conference web site at http://www.ecdl2010.org/ or email info@ecdl2010.org.
Share and Enjoy
Archiving for the Future: using archives to enhance learning and teaching in drama and theatre studies
Event Description:
This event is being organised in conjunction with the Institute for Performing Arts Development at the University of East London and the CEDAR (Clustering and Enhancing Digital Archives for Research) project: a unique approach to clustering and enhancing digital theatre archives through a collaboration between UEL, Royal Holloway, Sheffield and Nottingham universities as well as Kings College, London.
The day will consist of a series of presentations of good practice in using digital archives with undergraduate and postgraduate students.
It will include an opportunity for delegates to experiment and reflect on the use of archives for their own practice.
The target audience for the event is: drama/theatre studies lecturers, researchers, theatre historians, digital and web-practitioners, archivists, library and learning support service staff.
Topics covered will include:
The use of the East London Theatre Archive for undergraduate theatre students;
The connection between archives and web-based platforms for learning;
Making archives 'living' through the user-interface.
The event aims to provide an opportunity for the sharing of teaching pedagogies and an open forum for the discussion of methodological and other concerns.
More details are available from the event Programme
Share and Enjoy
Last week it was announced that HEFCE would be making funds available for some of the JISC funding calls that had been postponed.
e-Content currently has a call out on Developing Community Collections.  Strand II of this call has been on hold while HEFCE made their decision on funding.
It has been announced that funds are now available to continue this work, and Strand II will now be continuing, albeit with a slightly revised timetable for submission and project start times.
The revised deadline for submission of proposals will be the 15th March 2010,  with projects starting in May 2010.
Further information about the revised timetable for this work is available on the JISC website. 
Share and Enjoy
The recent launch of JorumOpen sees free access to a growing collection of open educational resources.
JorumOpen will allow lecturers and teachers  to share materials under the Creative Commons licence framework.  This will allow for easier sharing, grants users greater rights for use and re-use of online content and is easier to understand.
Jorum has also developed a range of  Youtube videos on using JorumOpen.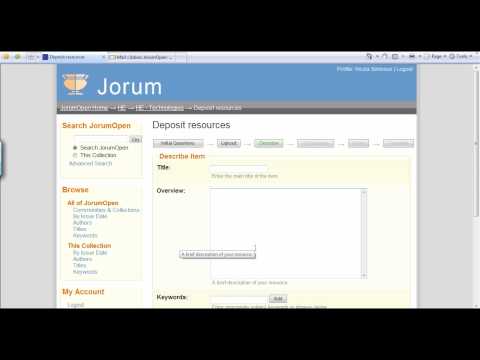 For digitisation projects this is an ideal place to both deposit any educational resources you may have developed as outputs for your project, and also offers a unique resource for uncovering and reusing new resources.
Share and Enjoy